OUR DEBT COLLECTION APPROACH
We pride ourselves on having one of the most effective debt collection programs in the industry. Our collectors are trained to use innovative techniques and think "outside the box" to compel even the most difficult accounts to pay. We can locate deep skips, assets, and equipment in order to make sure you get paid. Our proven track record and unique collection program ensure you get the highest return on your money.
RECOVERABILITY TIMELINE – PAST DUE ACCOUNTS
Once an account becomes delinquent, do not hesitate to place it in collections. According to the U.S. Department of Commerce, the chart below demonstrates how the clock is ticking away at your recovery rate: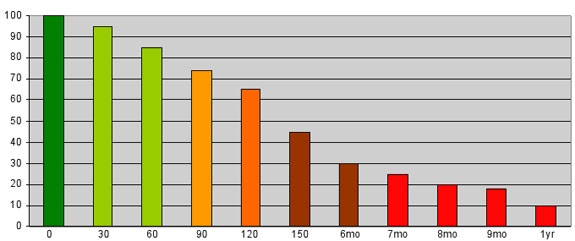 ENSURE THE HIGHEST RECOVERY – PLACE YOUR BUSINESS TODAY
When an account is placed to our agency, we help create a sense of urgency that shows the debtor your account is of utmost importance and needs to be addressed immediately.
OUR COLLECTION SUCCESS PROGRAM
The process begins within the first 24 hours of placement
Calls are placed immediately
Letter series begins immediately
The debtor is contacted via every method at our disposal under the law
Personal Guarantors are credit reported to the credit bureaus
Have Questions? Send Us A Message